Spitting Image (2016)
For
Theater Frascati
's program
The End of Privacy
I developed and curated an exhibition called
THE LODESTONE
, featuring my own work and that of
Floris van Driel
,
Cyanne van den Houten
,
Monika Gruzite
,
Florian Mecklenburg
and
Mary Ponomareva
.
For the exhibition I built an installation featuring a label printer spitting small excerpts of someone's identity. Databases, as we find them implemented in virtually all Web 2.0 sites and applications, like social media, increasingly transform the nature of culture and identity. Like a database, the identity is dematerialized in an endless information pattern, put together from user-generated content and retrieved data. This new database structure differs from the original narrative identity - it does not tell a story or shows intention, it is a collection of individual values. We judge and observe each other through these values.
Every minute a new label pops out and falls on the floor, which resulted in a big pile of random excerpts. What happened was that visitors searched the ground for labels that would fit their own identity (!) to personalize their phones, laptops, backpacks, coats etc.
Pictures by Bart Janse & me.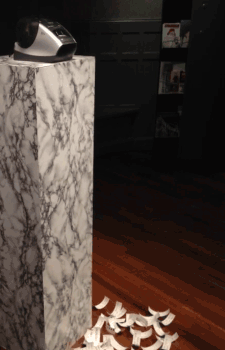 I AM UNCIRCUMSIZED
MY FAVORITE MOVIE IS MISSION IMPOSSIBLE
I THINK NOTHING IS WRONG WITH ZWARTE PIET
I HAVE AN ACCOUNT ON SECONDLOVE.NL
THIS HEMORRHOID IS BUGGING ME
I DRIVE A VOLKSWAGEN POLO
I HAVE 151 FRIENDS ON FACEBOOK